Animal Chiropractic in Niwot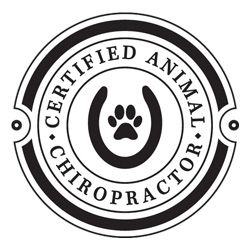 Chiropractic care for animals in Niwot is just as important as it for us. Since the spine is the body's lifeline, any vertebrate animal can benefit greatly from regular chiropractic adjustments. Regular adjustments help keep the body's biomechanics intact and the nervous system well-regulated so that our animal friends can express life fully with less pain and greater freedom. Whether they have an injury or illness, or whether they have no problems at all and you just want to help them live their best life, all your animals can improve under chiropractic care.
Every animal has the innate ability to coordinate and organize the healing of its own body's tissues. My job is to make sure that nothing in the biomechanics or nervous system interfere with that natural healing process. Injuries, feats of athleticism, and everyday events place stress on the animal's neuro-spinal system, and my approach is to help unwind the effects of that stress so your animal heals as quickly and completely as possible.
---
Chiropractic Care for Animals in Niwot CO
Equine and Large Animal Chiropractic
Dr. Ryan of The Adjustatorium is a specialist in equine chiropractic care, taking care of some of Colorado's highest level equine athletes and performance horses. He will travel to your barn or boarding location and perform a thorough chiropractic assessment and adjustment on your horses or horses you manage with the owner's consent.
Every horse needs to have its spine and nervous system checked on a regular basis. A comprehensive chiropractic visit includes not only adjustments to the spine, but adjustments to the legs, hooves, and jaw to ensure that each horse's chain of movement is as smooth and sound as possible. It's not a bad idea to have the riders checked and adjusted too, as a stiff rider leads to a stiff horse, and vice versa.
Large animal fee - $175
*A barn call fee of $100 may be assessed depending on the situation. In order to avoid this fee it helps to make Dr. Ryan's travel as time-efficient as possible. Gathering several horses at the same barn and having them caught and ready to be adjusted goes a long way.
---
Canine, Feline, and Small Animal Chiropractic
Dr. Ryan sees dogs and cats, as well as other small pets in his office in Niwot. He is a dog person himself who has had more than 30 dogs of his own, mostly growing up on the farm where there were always 5 or 6 farm dogs running around.
Agility dogs, show dogs, employed dogs, or home dogs who simply enjoy a relaxed or active lifestyle by your side all deserve the best chiropractic care available. A thorough chiropractic evaluation and adjustment on any of your animal friends will help make sure they do their best, feel their best, and live the best lives possible.
Dogs, cats, and all other small animals are welcome.
Small Animal Fee - $65
---
Dr. Ryan is a certified animal chiropractor in Niwot, Colorado. He learned his animal adjusting techniques from the legendary animal chiropractor Dr. Jay Komarek and completed his post-doctorate education in animal chiropractic at Parker University in Dallas, Texas. His approach is gentle and specific, and he ensures that each animal gets the highest quality chiropractic care available. Raised on a small farm in Northeast Georgia, Dr. Ryan has a lifetime of experience working with animals, and his love for them is easy to see in his unique approach to animal chiropractic. He is involved in giving back actively to the animal community, including initiatives such as the Colorado Horse Rescue, where he takes care of rescued horses and helps them find homes.
For more information, call our top Niwot chiropractor Ryan Marchman of The Adjustatorium today.
OFFICE HOURS
---
Monday
10:00am - 1:00pm
3:00pm - 6:00pm
---
Tuesday
Animal Chiropractic;
Horses
---
Wednesday
10:00am - 1:00pm
3:00pm - 6:00pm
---
Thursday
Animal Chiropractic;
Horses

---
Friday
10:00am - 1:00pm
Horses in PM
---
By Appointment Only